Photo by Bobbie Toner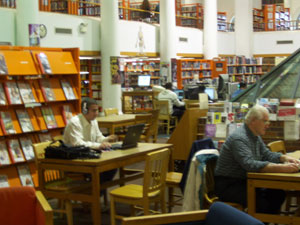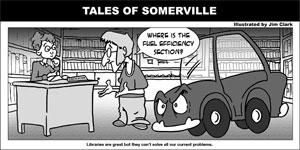 Libraries are great but they can't solve all our current problems. - Illustrated by Jim Clark

By Cathleen Twardzik

As folks in Somerville begin to feel the pinch of the slowing economy, local libraries are getting more use.

Jim Ventura, of the Somerville Public Library, said he has detected "an increase in both book circulations and audio-visual circulations," in the last year, as the nation has slipped into a recession.

In the last year check out figures for books rose by approximately 8 percent, periodicals by 6 percent, audio books by 13 percent and DVD's by 6 percent.

In fiscal year 2008, the total circulation of Somerville Public Library jumped by approximately 22,000 from the previous two years.

"Already in the first quarter of fiscal year 2009, our total quarter circulations are higher than last year's first-quarter circulations," said Ventura. In addition, "the number of Somerville residents registered with active Minuteman library cards jumped from 27,415 in 2007 to 28,946 in 2008."

Locals are also borrowing more movies and music from the library, said Beverly Blair, the audio-visual librarian.

"We're always busy, especially on Fridays for the weekend. I would definitely notice a slight change," said Blair.

Blair estimated that, on an average weekday, the number of movies borrowed ranges between 100 and 150 and from 200 to 250 on weekends. "I spoke to a patron yesterday, and she said, 'I'll be getting my movies at the library now,'" said Blair.